This non-competitive sports activity has gained boom among travelers who enjoy the scenery while hiking to their destinations. Hiking in Colombia or any country in the world, unites people more with nature and allows them to live a fun and adventure-filled experience.
.
Where to go hiking in Colombia?
Here is a list of places in Colombia for hiking:
.
Lost City (Santa Marta)
To go to this place you must have good physical condition, because they are between 4 and 6 days (depending on the tour you choose) of walks of at least 4 hours a day. Lost City is the favorite place for tourists to go hiking in Colombia.
In Lost City you will find indigenous settlements, circular squares, ancient stairs, stone roads built by the Tayrona civilization. This is an ancestral and sacred place for communities; therefore, you must respect their customs.
To get to Lost City, you must hire a legal tourism agency that has authorization to enter the archaeological park. Entry is not allowed independently.
.
Snowy Park – Parque de los Nevados
Another of the favorite places for hiking in Colombia is the Nevados Park. This tour brings many climatic surprises, due to the different mountain ecosystems. In this Park you will see volcanic formations, moors and even the Nevado Del Ruiz glacier. To go from Manizales you must take a bus to Murillo, then to Brisas refuge, where you have access to the snowcapped swan and Santa Isabel. You can also appreciate the Nevado del Quindío, the Paramillo de Santa Rosa and its frailejones.
.
The Rock of Guatapé (Antioquia)
The Rock of Guatapé or Piedra del Peñol is one of the favorite places for athletes in this area. It has a beautiful landscape around Gautapé and its dam. Its stairs reach 740 steps and the view from above is incredible, the best photos of travelers are achieved from the top of this place.
.
The Cocora Valley (Quindío)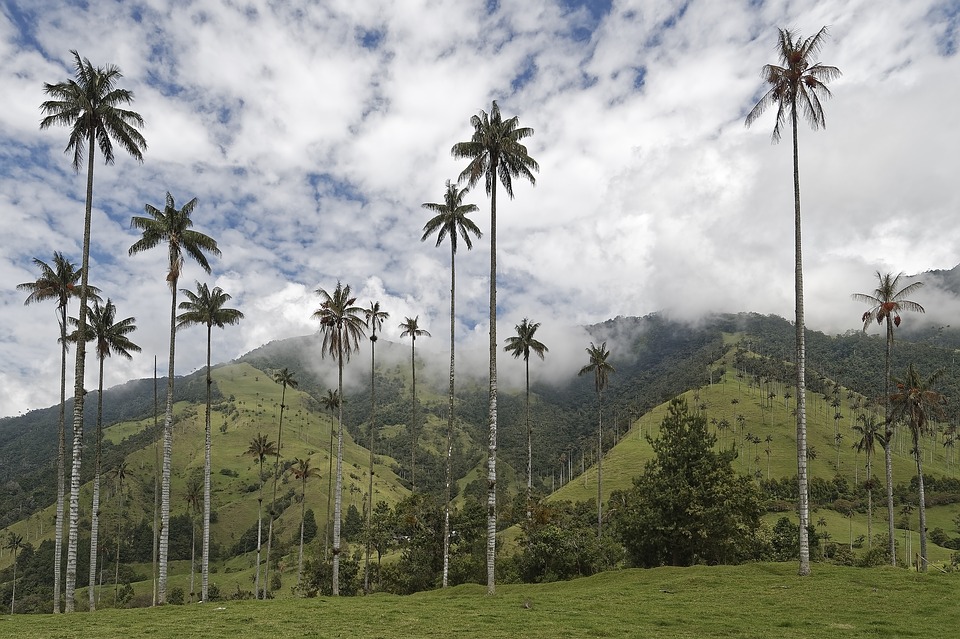 Place with greater abundance of Colombian wax palm. To practice hiking in this place it is necessary and mandatory to do it with a tour guide, because you can get lost in the fog. To get to El Valle del Cocora from Armenia, you must take a bus to Salento, where you can take a jeep (typical land transport from this region) that will leave you at the place of the Valley where you can start the trek.
.
Chicaque
It is a natural park in a forest of fog, which leads to trails and streams of crystalline waters; A mysterious place to go hiking in Colombia. On the way to them you can appreciate beautiful oaks and native vegetation; this area has 200 species of birds and is home to the spectacled bear, the lazy bear, squirrels and rabbits. To get to this place from Bogotá, you must take a bus via Soacha – Mosquera (only an hour and a half).
.
Recommendations for hiking
– First investigate the climate of the place where you are going to know what kind of clothes to wear.
– Wear a raincoat in case it rains or there is a lot of fog.
– Bring mosquito repellent, sunscreen, flashlight, cap, sunglasses.
– Wear tennis shoes or sole boots and a pair of sandals so you can rest in some stations on your way to your destination.
– Depending on the place, wear a pair of swamp boots in your backpack.
– Get a wood stick along the way, it will help you a lot.
– Bring enough water or some special hydrating drink.
– Don't forget to bring enough fruits and foods to stay strong and active.
– Carry plastic bags so you can deposit the trash you do on the road, please do not dirty the place you visit.
– Give priority to legal tourism agencies, remember that safe hiking should be your priority.
---
Related posts:
.
.
.
.
---
Enter our social networks to see images and videos about tourist places in Colombia.