More and more tourists include deserts in their lists of places to visit in the world. Despite being arid landscapes and having extreme weather conditions, there is a growing tendency to know them. In this blog we will mention the main deserts of Colombia that you can visit if you are in the country.
.
Most important deserts in Colombia:
.
1. Desert of La Guajira
La Guajira desert is the largest in Colombia. It is located in the north of the country and in turn is the northernmost point of South America.
Despite its high temperatures, this desert is one of the favorite tourist destinations for travelers; this is mainly due to the combination of desert and sea that creates amazing landscapes. In addition, when visiting it you will be able to have contact with the ancestral wisdom of the Wayuu people.
If you are one of those who prefer sun and beach destinations, going to Alta Guajira is a good option. Then, we share the plans we offer in Expotur to go to La Guajira desert:
Tour to Cabo de la Vela (2 days)
Punta Gallinas and Cabo de la Vela (3 days)
---
Fun fact
In this desert you can do Sandboarding!
---
2. Tatacoa Desert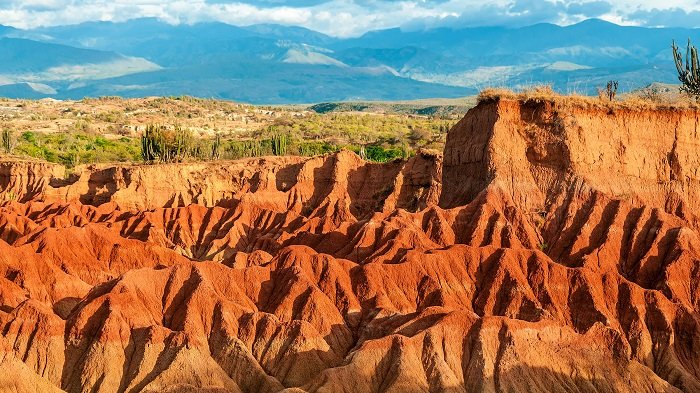 This is another of the deserts of Colombia that most attracts the attention of tourists. It is located in the north of the department of Huila, in the southwest of the country.
One of its main attractions are its mountains that resemble small labyrinths in which you can have fun.
Another factor that makes this destination one of the most preferred by travelers is its nocturnal landscape. Thanks to its location and the absence of sound and light pollution, it is one of the best places to observe the stars, so much so that it has an astronomical observatory.
.
What can I do in the Tatacoa Desert?
In this desert you can hike the trails, go to the viewpoint and go glamping.
---
Fun fact about the Tatacoa desert
La Tatacoa is not properly a desert, but a dry forest.
---
3. Candelaria Desert
It is located in the department of Boyacá, in central Colombia. This place is also known as the "Desert of Souls", since it is far from the populated places, making it optimal for spiritual retreat.
Unlike the previous deserts, the weather of this one is cold, due to the fact that it is located in an area of ​​moors.
The Candelaria Desert is known for the cave paintings that are found throughout the territory and for the important archaeological finds that have been made in it. In addition, a large part of the visits that the place receives are due to the Candelaria Monastery.
.
4. La Tatacoita Desert or Nemocón Desert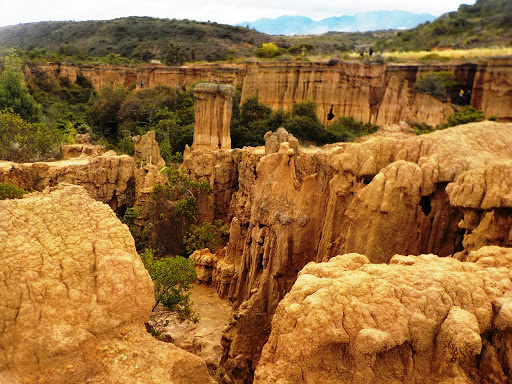 As its name indicates, this Colombian desert is located in the municipality of Nemocón, in the department of Cundinamarca. The name of Tatacoita comes from the great resemblance it has with the Tatacoa desert.
Access is private, so you must speak with the manager before going.
In this place archaeological elements such as fossils, vessels and cave paintings have been found.
.
5. Sabrinsky Desert
This desert is one of the least known in Colombia. It is located in Mosquera, very close to Bogotá.
Like the Tatacoita desert, access is private; That is why you must request authorization to enter and know it.
In this place, pictograms, Muisca tombs and other archaeological pieces have been found that make it a sacred and historical land.
.
What activities can I do in the Sabrinsky Desert?
Here you can camp, hike through the dunes or practice some extreme sports.
---
Fun fact
In this desert you can also do Sandboarding.
---
6. Western desert
This desert represents an extensive arid zone in the department of Antioquia, between Santa Fe de Antioquia, Sopetrá, San Jerónimo and Anzá.
Sadly, this place has one of the most intense processes of ecological destruction and desertification.
---
Which of these deserts in Colombia would you like to visit? Leave us your comment!
---
Related Posts:
.
.
.
.
---
Enter our social networks for images and videos of tourist places in Colombia.